News
CPC310 - PC/104-Plus Intel Atom E38xx SBC launch
06.02.2018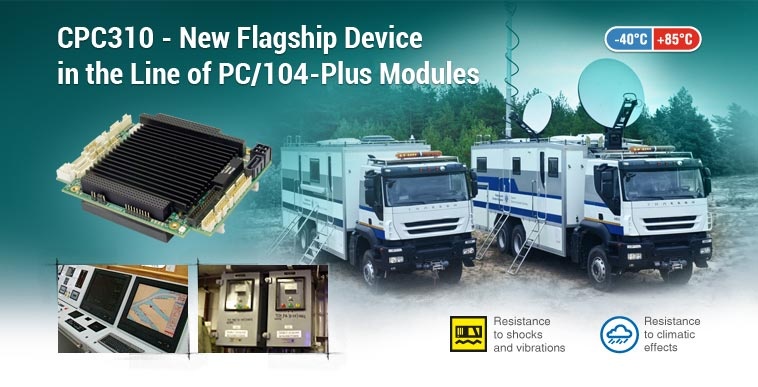 Fastwel announces the mass production of CPU module in PC/104-Plus format, intended for building real-time control systems, onboard systems, safety and communication features, fast data acquisition facilities and those aimed at other demanding applications in harsh environments.
CPC310 module has a standard PC/104-Plus form factor. In this case the types and location of interface connectors are selected in such a way as to ensure maximum compatibility with the existing Fastwel modules of this form factor.
This newly designed product is based on the industrial version of Intel Atom multicore "Bay Trail" CPU with 64-bit architecture. The used CPU platform is characterized by extremely low power consumption up to 10 W, possibility to work in the industrial temperature range (–40…+85ºC) and memory support with error-correcting code (ECC). The new module is distinguished from the existing computers based on CPUs AMD LX800 and Intel Atom N450/D510 by the improved performance parameters, including those of the integrated graphics controller.
The module has a wide range of interfaces for connection of the peripherals: two Ethernet channels, four USB ports, one Serial ATA port, four serial ports (RS232, RS422 / 485) and one parallel LPT port, eight separately programmable digital I/O lines, PS/2 port for keyboard and mouse, connector for CFast drives.
The module's functionality can be expanded by connecting additional modules in PC/104, PC/104-Plus, PCI-104 formats.
The integrated video controller with 3D/2D accelerator allows you to work directly with both a standard analog monitor connected via a VGA connector on the board, and with digital TFT panels via LVDS connectors.
All CPC310 components are soldered onto the board, which ensures high resistance of the product against shock and vibration loads. Upon request, the module can be supplied with a conformal coating.
This brand new product supports the most popular operating systems: Linux 3.8, Microsoft Windows Embedded Standard 7 and 8, as well as QNX 6.5.