Application Examples
"Sure-Cut® Meter" based on Fastwel rugged PC/104-Plus Intel Atom N450/D510 SBC
04.08.2015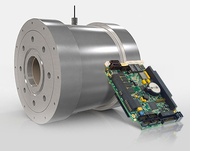 Oil & Gas industry: Wellhead, Heavy Oil and Subsea applications
A standard Sure-Cut Meter system will consist of three modules:
- Piping Spool (1", 2", 3" or 4" etc.)
- RF Electronics Enclosure (usually mounted close to or pre-integrated with the Piping Spool)
- Computer Electronics Enclosure (can be mounted at a significant distance away).
The Sure-Cut meter can operate onshore, offshore and subsea. In some cases, Computer Electronics Enclosure could be installed together with other system components. This explains the strict requirements imposed to the rugged SBCs: resistance to salty mists and high level of shock/vibration as well as ability to operate in wide temperature range. From the other side, CPU module performance has less value instead of its reliability.

Due to all these factors and set of required interfaces, Fastwel`s PC/104-Plus Intel Atom N450/D510 SBC CPC308 has been chosen to be applied for this project.
Fastwel CPC308 is an embedded SBC in PC/104-Plus format (PCI 32-bit, ISA 16-bit) with an optimized CPU performance to heat emission ratio. CPC 308 is based on Intel Atom CPUs with integrated graphics and wide range of communication interfaces that insures the use of the Board in multitasking processing systems. CPC308 estimated power consumption is from 12 to 17 watts depending on model. Thermal design allows using both air cooling and conduction cooling.
The module includes CompactFlash socket, two Ethernet channels, four USB ports, two SerialATA ports, four serial ports and NAND Flash drive.
PC/104 and PC/104-Plus peripherals can be used for functionality expansion.
The module is supplied with preinstalled FreeDOS operating system (if the preinstalled operating system options are not selected) and is compatible with MS DOS 6.22, QNX 6.5, Windows XP Embedded, and Linux 2.6 operating systems.