Events
Embedded World Trade Fair, March 14-16, 2017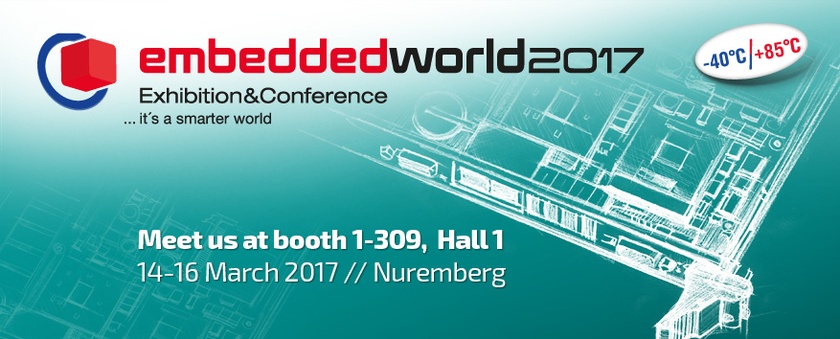 Fastwel`s exposition, Booth 1-309:
• Rugged Single-Board Computers in PC\104, CPCI and other form-factors;
• High-Performance Embedded Computers for harsh environments;
• Protected Box and Panel PCs for mission-critical applications
Our Novelties
GRIFON - High-Performance Heterogeneous Multipurpose Computing Platform based on 3U CPCI S.0 blades.
CPC512 – 3U CompactPCI Intel IvyBridge (2/4 Cores) CPU board. This card is a highly-integrated 3U CPCI Serial solution for the use in real-time, automation control, high-speed data acquisition and processing systems. The board is based on the Intel Ivy Bridge CPU (2- or 4-core CPUs) which has one of the highest performance levels in its class.
CPC310 – PC/104-Plus Intel E38xx based SBC. The device is designed for embedded applications that require high-performance and low power consumption.
DIC324 – PC/104-Plus Digital Input/Output Module with Galvanic Isolation. This module can be used for measurement of frequency (duration) and phases of signals, carrying out of computing and timer operations, acceleration of logical and arithmetic operations, generation of PWM signals, conversion of codes, control of alphanumeric indicators, generation of time control diagrams and hardware event interrupts at inputs.
NIM355 – StackPC-PCI Interface Module. It is designed for the use in embedded systems with CAN networks and represents a 4-channel CAN-interface module, which makes it possible to additionally connect up to 4 digital I/O lines and 4 digital output lines.
VIM302 – StackPC Video Graphics Controller Module. The device can operate in two modes: Master mode when module is operating as a standalone full-featured CPU module. Peripheral devices are connected to the module via StackPC expansion connector. Or a slave mode when module is a peripheral device for capturing and processing video streams.
CPC1302 - COM Express Basic Intel BroadWell-H 47W CPU Module can be used mainly as a compute core (which also has a wide range of I/O interfaces), while building real-time systems, onboard systems, security and communication tools, production control and high-speed data acquisition equipment as well as for other mission critical applications. The board is equipped with polymetallic heatsink, which enables increasing the efficiency of conduction heat-removal by more than 25%.
Also this year Fastwel will highlights it`s expertise at research and development of custom made rugged electronics for Radiolocation, Hydroacoustics, as well as emergency data recorders.
Fastwel booth 1-309 is strongly recommended to visit for those engineers and system integrators who design long-life cycle platforms for mission-critical applications where the top priority is given to the resistance to extended temperature range, high humidity, salty mists , and high level of shock vibration.
Primary contact: Denis Zhiltsov, Head of International Sales Department Zhiltsov@fastwel.com
Nuremberg, Exhibition Center, Hall 1, booth 309
14.03.2017 - 16.03.2017