1U High-Performance : Intel® Core™ i7 Fanless Computer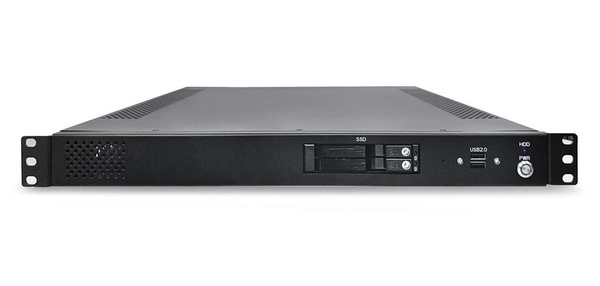 1U High-Performance : Intel® Core™ i7 Fanless Computer
IPC-SYS8FN2 (Advantix - powered by Fastwel)
CPUs: Intel® Core™ i7-9700TE (1.8/3.8GHz, 12MB, 8 cores)
RAM: 4-64GB, 2xDDR4-2400/2666, non ECC, 1/2-channel;
GPU: integrated Intel UHD 630, up to 64GB, res 4096x2304;
Network: 2x Ethernet 10/100/1000 controllers;
Operating temperature range: from +5°C to +40°C, or - 20°C to +60°C (AC-version), or from -30°C to +60°C (DC-version);
Power supply: 220V AC or 9-36V DC (2 options);
OS compatibility: Microsoft Windows 10 (64 bit), Linux;
Weight: 8.9 kg;
Sales & technical support
IPC-SYS8FN2 (Advantix - powered by Fastwel) is a 1U highperformance computer featuring a fanless design and a low power consumption, available as AC and DC (with a redundant option) versions and designed for operating temperature range from +5°C to +40°C, or from -20°C to +60°C (ACversion), or from - 30°C to +60°C (DC-version).
IPC-SYS8FN2-I7-AC

Fanless 1U computer / Core i7-8700T 2.4GHz / 16GB DDR4 / 480GB SSD / AC power supply, temperature range: from +5 to +40;

IPC-SYS8FN2-XXX

Custom configuration in accordance with the customer requirements. Delivery time – from 2x weeks (depending on components availability);
Fields marked with symbol "*" are required to send the request to Support.