Embedded Computer for Edge Computing and Machine Vision Systems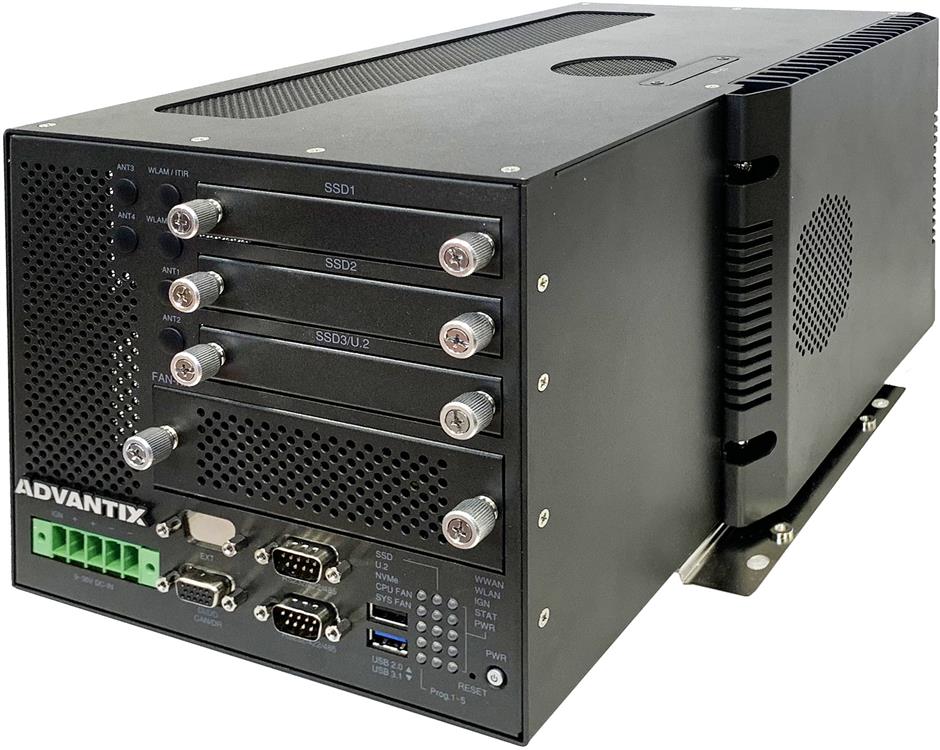 Embedded Computer for Edge Computing and Machine Vision Systems
ER-G800 (Advantix - powered by Fastwel)
CPU: Intel Core i7/i5/i3/Pentium/Celeron CPUs , 8/9 gen.;
RAM: 4 – 64 GB, 2 x DDR4 SO-DIMM, 1x or 2x channel;
Power supply: 9~36 V DC;
Chipset: Intel C246;
GPU: Intel UHD Graphics 610/630 or dedicated up to NVIDIA RTX 2080Ti / Titan V (250 W) (as an option);
Operating temperature: -30°C to 60°C (w/o fans, w/ CPU up to 35W TDP, w/ ind. SSD, w/o GPU and expansion cards);
Network: 2x GbE LAN ports, Intel® i210-T1 and Intel® I219LM;
Weight: 12 kg;
Sales & technical support
ER-G800 (Advantix - powered by Fastwel) is a powerful embedded computer for edge computing and machine vision systems, which can be used in vehicles in order to ensure operation of machine vision systems. The device comes with fans or as a fanless version and can be equipped with up to 8 cores Intel® Coffee-Lake S/Refresh cores.
ER-G800

Embedded Computer / Core i7-8700T / 8GB SDRAM / 256GB SSD / set of fans / PSU 120 W

ER-G800-XXX

Custom configuration in accordance with the customer requirements
Fields marked with symbol "*" are required to send the request to Support.