Fanless DIN-Rail Computer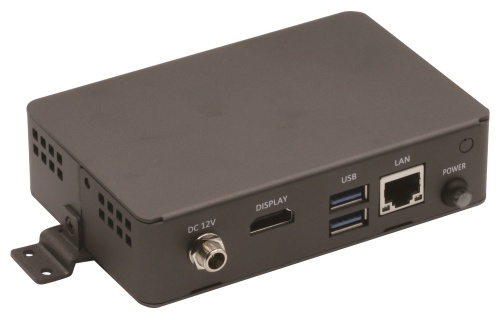 Fanless DIN-Rail Computer
ER-2100 (Advantix - powered by Fastwel)
CPU: Intel® Celeron® N3350 (2x cores, up to 2.4 GHz, 6 W);
RAM: DDR3L 4 GB (2 GB as an option), soldered;
GPU: integrated, Intel® HD Graphics 500/505, 2GB;
Programmable watchdog timer;
Operating temperature range: from +5°C to +40°C;
Storage temperature range: from +5°C to +60°C;
Power supply: 12V DC (ATX);
OS compatibility: Microsoft Windows 10, Linux*
Sales & technical support
ER-2100 is the most cost-effective model in the AdvantiX (powered by Fastwel) line of fanless computers with the wall-mounting or DIN-rail capability. This reasonably priced, compact and functional computer is designed for use in industrial
automation applications.
ER-2100

Fanless Embedded Computer / Celeron® N3350 / 4GB DDR3 / 32GB eMMC, 0..+40;

ER-2100-XXX

Custom configuration in accordance with the customer requirements (-20..+70C);
Fields marked with symbol "*" are required to send the request to Support.