CPC304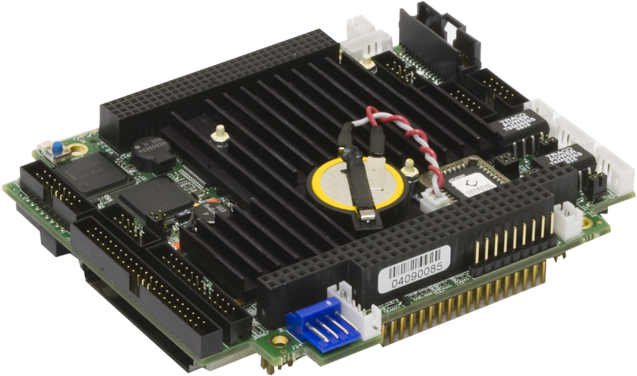 PC/104-Plus AMD Geode LX800 SBC
CPC304
• AMD Geode LX800 processor; 500 MHz; from long-term manufacturing program
• PC/104 and PC/104-Plus expansion modules support; 16-bit ISA and 32-bit PCI buses
• 256 MB soldered DDR SDRAM
• Supported resolutions up to 1920x1440; VGA and LVDS interfaces; LCD panels support
• Soldered NAND flash disk 1 GB
• CompactFlash Type I/II socket
• Two 10/100-BaseT Fast Ethernet ports
• Two USB 2.0; four COM ports (two isolated RS-422/485 ports)
• Protective coating (option)
• Shocks/vibration: 50G/10G (IEC 68-2-27-87; IEC 68-2-6-82)
• Operating temperature range: –40°C to +85°C (IEC 68-2-14-84)

Sales & technical support
CPC304 is a PC/104-Plus single board computer for embedded applications. It is designed for use in mission critical on-board systems requiring low power consumption and wide operating temperature range. CPC304 architecture is based on AMD Geode LX800 CPU and AMD CS5536 I/O companion.

CPC304 provides full support for PC/104 and PC/104-Plus expansion modules and data exchange via both 16-bit ISA and 32-bit PCI buses.

All key components including CPU, chipset, memory, and periphery controllers are soldered on-board providing excellent vibration stability and increased efficiency of protective conformal coating.

CPC304 offers wide variety of data display capabilities. System developers can take advantage of simultaneous operation of standard VGA interface with resolution up to 1920x1440, 24-bit LVDS interface, and 18-bit interface for TFT or DSTN LCD panels connection.

Data storage subsystem is based on single-channel IDE controller, that is able to drive any two devices out of a number of selected in BIOS Setup and available for connection IDE devices: two external hard drives connected via on-board connectors, CompactFlash card, or soldered on-board 1 GB flash disk.

For data exchange, CPC304 uses two independent Fast Ethernet ports, four COM ports, two USB 2.0 ports, and eight programmable discrete input/output lines.

System control and management capabilities of CPC304 include two watchdog timers, opto-isolated remote reset input, external signal system wake-up controller, reserved BIOS, and possibility to save system configuration and emergency parameters in FRAM chip.

CPC304 is manufactured in two versions: CPC304-01, full function version, and CPC304-02, "light-weight" version without LVDS interface and on-board 1GB NAND flash disk, with one Fast Ethernet channel and three COM ports.

CPC304 is designed for operation within industrial temperature range from -40°C to +85°C.

CPC304 supports wide range of operating systems – MS DOS, QNX, Windows XPE, CE5, RTOS32 and Linux.
CPC30401

PC/104-Plus CPU board CPC30401with AMD Geode LX800 500 MHz, AMD CS5536 I/O, RAM 256 MB soldered, VGA, LCD, LVDS, 16-bit ISA, 32-bit PCI, 2xEthernet 10/100 Base-T, IDE Flash 128 МB, CF Socket, 2xUSB2.0, COM1- COM4, -40 … +85 C

CPC30402

PC/104-Plus CPU board CPC30402 with AMD Geode LX800 500 MHz, AMD CS5536 I/O, RAM 256 MB soldered, VGA, LCD, 16-bit ISA, 32-bit PCI, 1xEthernet 10/100 Base-T, CF Socket, 2xUSB2.0, COM1- COM3, -40 … +85 C

KIB38001

Accessory for CPC304 - Headers to PC-interfaces Interposer board. Dual RS232 -DB9, Dual RS485, AUDIO, VGA-DB15, LPT - DB25, Dual USB - `A`, Dual LAN - RJ45, KB - PS/2, Mouse - PS/2
Cables and connectors
Components for embedded systems design
Fields marked with symbol "*" are required to send the request to Support.