CPC150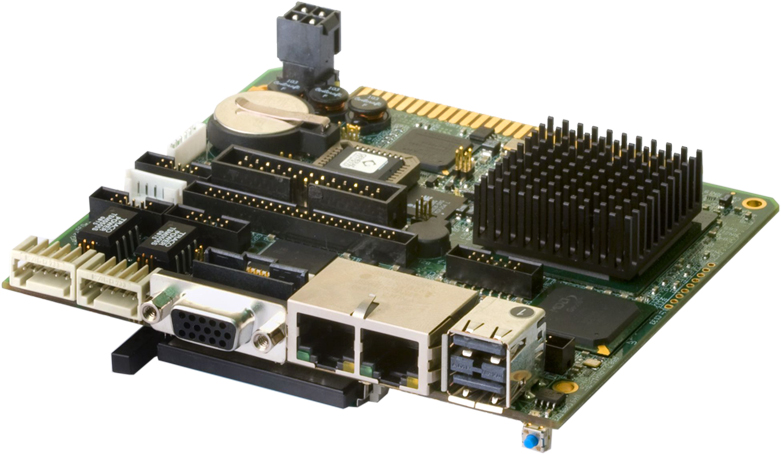 MicroPC processor Module
CPC150
• AMD GEODE LX 800, 500 MHz
• 256 MB DDR SDRAM
• CF I/II socket, 1 GB with IDE
• VGA, LCD (TFT or DSTN) up to 1920x1440
• Two Fast Ethernet ports
• Two RS232, two RS422/485 isolated
• Four USB 2.0
• Discrete input/output: 24 channels
• Operating temperature range: -40C...+85C

Sales & technical support
CPC150 is a fully x86compatible SBC designed for operation in rugged environment.

It features wide selection of standard PC interfaces, such as two Fast Ethernet ports, USB ports, audio interface, graphics controller with support of CRT displays and flat panel TFT or DSTN displays.

Besides, it is equipped with four analog video input channels supporting connection of PAL/SECAM/NTSC video cameras with resolution up to 720×576/720×504 at 25/30 frames per second; 24 discrete input/output channels; and FPGA with open programming interface.

Soldered CPU, system memory, and solid state disk enable excellent shock and vibration stability.
CPC150-01

MicroPC CPU board AMD LX800/256MB /1GB Nand flash/CF/FPGA/256kb NVSRAM/DIO/2xEthernet/4xUSB/2xRS232/2xRS485/422/4 video input

CPC150-02

MicroPC CPU board AMD LX800/256MB/1GB Nand flash/CF/2xEthernet/4xUSB/2xRS232/2xRS485/422

MIC101-01

Mounting hardware for 2.5" HDD installation; 2.5" HDD is ordered separately

MIC101-02

On-board power supply modules providing power votages for CPC150 CPU module (+5V, 5A), for a MicroPC crate and video cameras connected to CPC150 (+12V, 1.3A); input voltage: 9…36V (WAGO terminal block)
Cables and connectors
Components for embedded systems design
Fields marked with symbol "*" are required to send the request to Support.